All the things that make you say WTF. Official Account of What The F*** Facts. #WhatTheFact
Joined on August 10, 2011
@WhatTheFFacts Statistics
We looked inside some of the tweets by @WhatTheFFacts and found useful information for you.
Analyzing last Tweets
Average time between publishing:
15 minutes
Tweets with photos
5 / 100
Tweets with videos
0 / 100
Rankings
(sorted by number of followers)
Fun Fact
40% of registered Twitter users have never sent a single tweet.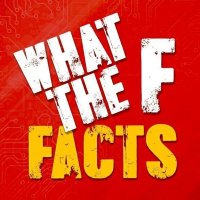 A physicist faced with a fine for running a stop sign in 2012 proved his innocence by publishing a mathematical paper. He even won a prize for his efforts.
"Layogenic" is a Filipino word for someone who only looks good from a distance.
Ice cream really does significantly reduce emotional pain when consumed.
16 Things That Might Actually Make You Cry A Little
People who sleep more have a higher alcohol tolerance.
Mentally picturing yourself doing a task will make you better at doing it in real life.
22 Genius Clothing Hacks That Are Easy And Cheap
More legal marijuana was sold last year than Pringles, Oreos, and Dasani combined.
The Black Panther is the richest superhero out of all the Marvel and DC characters. With an estimated value of $90.7 trillion, he's also the wealthiest fictional character of all time.
9+ Hilarious Parents We Can't Help But Respect
In Sweden, some students let out a primal scream at 10 PM every night. The 'Flogsta Scream' is when students at some universities stop what they're doing at exactly 10 PM and collectively scream from their windows to help blow off steam and ease the stresses of college life.
To topple a country's government, only 3.5 percent of its population has to rise up against it.
23 Simple Hacks To Give Your Life An Instant Upgrade
On April 28, 1996, a gunman opened fire on tourists at an Australian resort, killing 35 people and wounding 23 more. Australia enacted strict gun laws and have had no mass shootings since.
13+ Pics That'll Make Your Brain Hurt
Weed and sex can help relieve migraines.